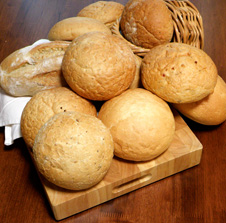 European Style Quality Breads
Austral Croissants produces a wide variety of breads, including Cobs, Baguettes, Focaccia and a selection of small and large rolls.
With strong French influence and traditional baking practices, Austral Croissants products offers a thin crunchy European style crust experience, when cooked to the recommended instruction. It is free form cooked on alveolus trays. Snap frozen from fresh, designed to provide freshly cooked bread on a daily basis, aimed at all sectors of food service. No Artificial Colour. No Artificial Flavours. No Preservative.
Cooking Direction:
 Preheat oven to 200 deg C.
 Bake at 190-200 deg C for 6-9minutes or until desired colour
Par Baked bread can be thawed first or add extra 3-4 minutes in the oven if baked from frozen.
Please keep FROZEN at -20 deg C.
DO NOT slow cook as bread will dry out.
DO NOT thaw and refreeze.
RESEAL carton after opening to prevent bread from drying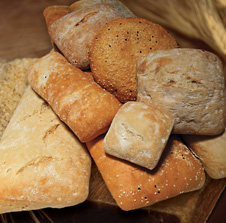 Specialty Breads
Austral Croissants has a selection of speciality breads to suite most catering establishments. Turkish, Ciabatta and Panini's in a variety of different flavours and sizes.
This is fully baked European Speciality Range. With a strong French influence and traditional baking practices, this delicious flavoursome range also offers a thin crunchy European style crust experience, when cooked to the recommended instruction. It is free form cooked on alveolus flat trays. Snap frozen from fresh, designed to provide freshly cooked bread on a daily basis, aimed at all sectors of food service. No Artificial Colour. No Artificial Flavours. No Preservative
Please enquire with your wholesaler for supply, or contact our Sales Representative on 0403 333 214 or email our sales department on sales@australcroissants.com.au for your nearest stockist.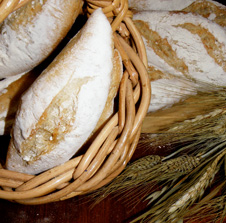 Artisan Breads
The Original art of bread making has been around over 2000 years. This small range has proven to be a successful addition to an ancient practise of leaven bread. A longer fermentation process brings out the goodness and flavour of a true Artisan product.

As with our other Austral Croissants Breads, this unique delightful range also offers a thin crunchy European style outer layer, when cooked to the recommended instruction. It is SNAP frozen from fresh, designed to provide freshly cooked bread on a daily basis, aimed at all sectors of food service. No Artificial Colour. No Artificial Flavours. No Preservative

Cooking Direction:
o Preheat oven to 200 deg C.
o Bake at 190-200 deg C for 6-9 minutes or until desired colour
Par Baked bread can be thawed first or add extra 3-4 minutes in the oven if baked from frozen.
DO NOT slow cook as bread will dry out.
DO NOT thaw and refreeze.
RESEAL carton after opening to prevent bread from drying